A-Frame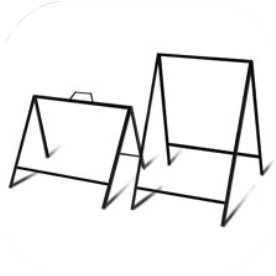 These A-frame frames are used either indoors or outdoors and can hold 2 YARD SIGNS. Signs are NOT included. They are typically used in neighbourhood areas and walkways to promote special deals.
Product Specs
Colour: Black
Material: Metal
Coating: Uncoated
Finishing: Packaged
Turnaround: 2-3 business days for production. Shipping time depends on shipping method and location.
Options
Frame Size: 18" (h) X 24" (w) / 36 (h) X 24" (w)
Full size: 24" X 24" / 42" X 24"
Quantities: Between 1 - 10