Yard Signs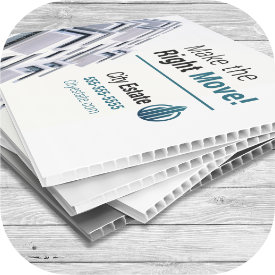 Perfect for Real Estate, Construction, Yard, Election signs and more.
Coroplast signs are durable and a great option for outdoor signage. 4mm signs are typically used as they are lighter and more cost effective.
Product Specs
Colour: Full colour
Material: 4 mm Coroplast
Coverage: Front
Coating: Uncoated
Turnaround: 4-5 business days for production. Shipping time depends on shipping method and location.
Options
Sizes: 6X24 / 6X32 / 6X36 / 12x12 / 12X16 / 12X18 /
12X24 / 12X36 / 18X24 / 24X24 / 24X32 / 24X36
Coverage: one-sided / Two-sided
Grommets: On all corners / Top corners
(Grommets are metal rings that are used to hang signs on walls or posts)
H-stands: Yes / No
(H-stands are planted in the ground and then placed inside the holes of the signs. Made of aluminium)
Quantities: Between 1 - 50

Custom Design: $30