Brochures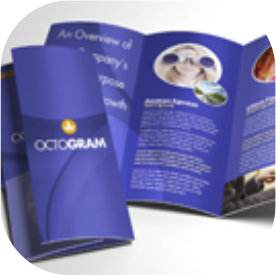 The folded brochure is the best way to communicate a lot of information in a clear and organized way. With many versatile folding options to choose from, your full colour brochure will be sure to attract your target audience.
Product Specs
Paper: 100lb Gloss Text
Colour: Full colour
Coverage: front and back
Paper: 100lb Gloss Text
Turnaround: 4-5 business days for production. Shipping time depends on shipping method and location.
Options
Sizes: 8.5" x 11" / 8.5" x 14" / 11" x 17"
Fold Options (Folding cost included in price): Half fold / Roll fold / Z fold, Double parallel (on 8.5 X 14 only)
Coating Options: Glossy UV / Matte finish / 80lb Enviro (uncoated) / Uncoated GlossyText
Bundling Options: No bundling / Single band - 25s / Single band - 50s / Single band - 100s / Cross band - 25s / Cross band - 50s / Cross band - 100s / Shrink wrap - 25s / Shrink wrap - 50s
Quantities: Between 25 - 25,000
Custom Design: $120
Folding Types Explained Below: