Premium FOR SALE Signs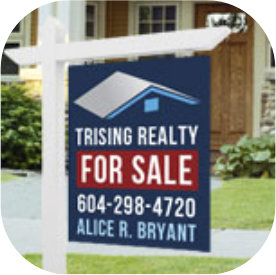 The FOR SALE signs are typically used for Real Estate and other industries that require robust signs for the outdoors. 8mm signs are typically used as they are stronger and more durable than 4mm.
Product Specs
Colour: Full colour
Material: 8 mm Coroplast
Coverage: Front
Coating: Uncoated
Turnaround: 4-5 business days for production. Shipping time depends on shipping method and location.
Options
Sizes: 6X24, 6X32, 6X36, 12x12, 12X16, 12X18,
12X24, 12X36, 18X24, 24X24, 24X32, 24X36, 36X36
Coverage: one-sided / two-sided
Quantities: Between 1 - 50
Grommets: On all corners / Top corners
(Grommets are metal rings that are used to hang signs on walls or posts placed 1" from the top and bottom and 4" from the side)

Custom Design: $30