Banners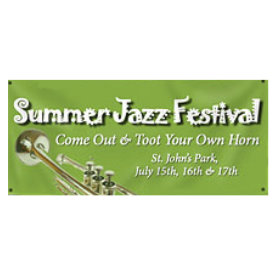 Banners are a cost-effective and portable way of communicating your message in a big way. Matte vinyl banners have a more dull finish. Glossy vinyl banners have a more shiny finish.
Product Specs
Colour: Full colour
Material: 13 oz Glossy banner
Coverage: Front
Coating: Matte / Glossy
Turnaround: 4-5 business days for production. Shipping time depends on shipping method and location.
Options
Sizes: 12X24 / 12X36 / 12X48 / 12x60 / 24X24 / 24X36 / 24X48 / 24X60 / 36X36 / 36X48 / 48X48 /48X60 / 60X60 / 72X12 / 72X48 / 72X60 / 84X12 / 84X24 / 84X36 / 84X48 / 84X60 / 96X12 / 96X24 / 96X48 / 96X51 / 96X60 / 72X36 / 60X36 / 90X36 / 96X48 / 72X24
Quantities: Between 1 - 10
Grommets: On all corners / Top corners
(Grommets are metal rings that are used to hang signs on walls or posts)
Hemming: Yes / No
(Hemming is a process where the sides are heated and glued together with a very hot iron. This process improves the rigidity of the sides to avoid possible tears)

Custom Design: $30-$180 (Please tell us your label needs and requests and we'll send you a quote!)